Emotional Support Animal Letter Premium Package Includes both Housing and Travel Letters
Shipping
If you input the wrong address at checkout, you will need to contact shipper (USPS or FedEx) and correct the mistake. If not done in timely manner you will need to wait for package to be returned to our shipping office and we will re-send package to you. Additional shipping fees will apply.
Most orders are shipped via USPS or FedEx within 24 hours of order, orders placed prior to 1pm PST will ship out that day if there are no issues matching registration with purchase. Orders are shipped Mon-Sat via USPS & FedEx, Saturday cutoff is 11am PST for shipping that day. Please allow 3-7 days for free shipping and standard shipping. To ensure that you receive your order when you need it, please plan accordingly. USPS does not guarantee timely delivery to all towns in the country, check your tracking code to see scheduled delivery date. During the holidays, please place your order at least a few days in advance to ensure timely delivery. Unexpected delays may happen due to weather, we don't offer refunds for shipping delays out of our control.
Required Signature:
Deliveries to residential addresses typically do not require a signature, however, if one is required and no one is available to sign, a note will be left noting attempted delivery. After three attempts to deliver the package will be returned to USA Service Dog Registration.
Email Confirmation:
Once your order has been shipped, you will receive an email informing you of your package being shipped. If you desire a tracking number please email us at admin@usaservicedogregistration.com
Customer Reviews
Write a Review
Ask a Question
Filter Reviews:
vest
everything
letter
process
Support
quality
items
experience
therapist
customer service
Wow
Background: Okay. So here goes. I stumbled upon this website when I began losing hope. I am going to travel internationally and it seems that most if not all the airlines that allow pets my dogs size are asking for an arm, a leg and five months rent. I have just recently moved to the US so I am not under any psychological treatment however my dog means the world to me and she's saved me from many anxiety attacks. At first this seemed a bit too easy and somewhat sketchy but after some research I took a good decision to register her and boy am I glad I did! Timeline: Wed June21- I logged on the website and registered Dolce (my princess) for free. $0.00 Wed June 21-I sent an email to USA registration to ensure that the medical letter would work for the airlines (because I was skeptical) ThursJune 22- instead of an email reply I got a phone call early in the morning with a response to the question I had asked the night before. And the answer is yes. ThursJune 22- I placed the order of the package of accessories and the medical letter which was $249 and that included three plastic ID tags, I leash, a collar, her vest, a keychain, and the medical letter from a licensed therapist. June 22- got an email confirmation from the order and a few hours later I got an email with a medical history form that I needed to fill out to begin the process of the medical letter. This online form took less than 10 minutes. FriJune23- got a phone call from the licensed therapist to hold a consultation over the phone this lasted exactly 30 minutes. Take in mind that not everyone is approved for the medical letter it is safe to say that therapist is very professional and handled the call ethically and really listens well. MonJune26- got my medical letter via email And got my accessories in the mail with USPS! Fit her like a charm! Very good sturdy material and great durable quality. And should be getting the physical letter in the mail soon but I printed out the one I got in the email. With this package of accessories, the letter, her vaccines, and a sealed USDA health certificate from the usda-accredited vet, I will be able to fly with her next to me protecting me. Delta airlines have a disability department that will accommodate you with a specific seat if you have a service or support pet at no extra cost. (Btw) Flight is soon. I'm all set. The service and EFFICIENCY was phenomenal!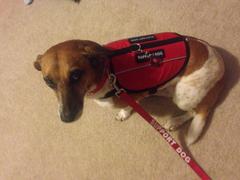 08/02/2020
Ravy H.
United States
Amazing service!
It was nice and easy!
07/21/2020
Patricia G.
United States
10/10 Recommend!
I was a bit iffy at first but everything went super smooth. Bought my package and within 24 hours, the therapist called me. I can now travel with my furry baby! So happy!
07/14/2020
Patricia S.
United States
Everything was OK the only thing I never received was my certificate but I did get my ID card and the dog stuff I'm still waiting in the mail for my letters but I never received the certificate in the package
Everything was OK the only thing I never received was my certificate but I did get my ID card and the dog stuff I'm still waiting in the mail for my letters but I never received the certificate in the package
05/25/2020
Kristina C.
United States
Wonderful
so far so good. The order process was easy. The health history process was easy. Now to wait for the order. Hopefully that will come just as planned.
05/24/2020
Donna B.
United States
Easiest thing I've done...
This was by far the easiest thing I have done for my autistic daughter so far! Everyone I spoke to was kind and professional, the therapist was great! I couldn't have asked for a better experience. I highly recommend doing this and as for the products, they came before they were expected. They are great quality and fit him wonderfully.
05/19/2020
Cheryl T.
United States
Bruiser helps ease my Anxiety
My experience was Superb. Fast, professional and convenient. I would recommend USA service dog registration to anyone looking to register their animal. I ordered the the Premium package at a discounted price-well worth the price!
05/19/2020
William B.
United States
Easy Process
Very smooth and extremely well done.